Skip Navigation
Website Accessibility
Local Events
Local Events:
Piggott Heritage Car Show
This annual car show takes place the third weekend in May. It was organized in 1998 and now has over 300 antique cars and rod runs that participate in it. Activities begin on Friday night and end on Sunday afternoon. These activities include live entertainment, breakfast at the park, a parade through downtown Piggott, a 50s dance on the square on Saturday night, and the announcement of trophies and special awards on Sunday.
Clay County Fair
This fair has been ongoing since 1932 and features such county fair staples as a parade, 4H, livestock, agricultural exhibits, and refreshment stands. The fair also features Beauty Pageants, a 5-Klay County Run 4 Fun, Battle of the Bands, the Clay County Rodeo, a Demolition Derby, Mud Races, and a Tractor Pull. Dates for 2023 are September 13 to 16th.
Piggott 4th Of July Celebration
This 4th of July homecoming and picnic is a local tradition since the early 20th century. The day begins with a parade that is followed by activities at the picnic grounds such as an old fashioned barbeque, various vendors, entertainment at the bandstand along with speeches from local, state and national politicians, a carnival with rides for the kids, beauty contests for all ages, a drawing for three $5,000 prizes and finally a fireworks display at 10 pm. All proceeds from the day go toward the upkeep of the Piggott Cemetery.
LOCAL ATTRACTIONS:
Hemingway-Pfieffer Museum
1021 West Cherry Street, Piggott
hemingway.astate.edu
A barn in Piggott seems an unlikely writer's retreat, but it is here that literary giant Ernest Hemingway penned portions of some of his most famous works, including A Farewell to Arms. During his marriage to Pauline Pfeiffer, from 1927 to 1940, Hemingway was a frequent visitor to her family home in Piggott, and the Pfeiffer's converted their barn for his use. The Pfeiffer home and adjacent Hemingway barn studio have been restored and furnished as they were during the Hemingways' visits.
Matilda and Karl Pfeiffer Museum
1071 Heritage Park Dr, Piggott
This early 1930s Tudor-style residence was the home of Karl and Matilda Pfeiffer, son and daughter-in-law of Paul and Mary Pfeiffer. Matilda, who once had a dream of designing Hollywood sets, designed and supervised the construction of this house, as well as creating the 11 acres of grounds and natural gardens. An avid mineral collector, she amassed more than 1,400 specimens from around the world, along with a library of more than 1,600 books and a collection of Native American artifacts. Her extensive collections are on display for visitors. Karl's brother-in-law and sister, Ernest Hemingway and Pauline Pfeiffer Hemingway, were frequent guests in Matilda's and Karl's home when visiting Pauline's parents at their home next door. Scenes from "A Face in the Crowd," the 1956 movie starring Andy Griffith and Patricia Neal, were filmed on site, and still photographs from the movie also are on display.
Pumpkin Hollow, Christmas in the Hollow (seasonal)
671 Co Rd 336, St Francis, AR (9 minutes from Piggott)


pumpkinhollow.com
Owners Darrell and Ellen Dalton have farmed at the Pumpkin Hollow site since 1969. Pumpkin Hollow was established in 1993 to fill an area need for wholesome family fun and education (and pumpkins!). Pumpkin Hollow is the largest commercial gourd grower in the mid-south area and provides family friendly farm fun, including a gourd trellis, pumpkins, gourds, farm animals, hay slides, hay rides, pony and train rides, cornfield mazes, pig scrambles and other special events. Approximately 20 varieties of pumpkins and specialty squashes available mid-September through October. Also available at this time: Corn stalks, mums, wheat straw bales. Fall festival activities available in October include a corn maze, hayrides, and a haunted house.
Kennett Fall Into Arts Festival
September of 2023, Kennett, MO (approximately 25 minutes from Piggott)


kafta.org
Fall Into Arts is a local arts festival in Downtown Kennett, MO (hometown of Cheryl Crow). The festival is put on by the Kennett Alliance for the Arts and supports local arts in the Bootheel area. The event features an Art/Craft & Photography Show & Sale, musical performances, a mini film festival, LEGO Activity Zone and Competition, street theater, food and refreshments and much more!
Southern Tenant Farmers Museum
117 Main Street, Tyronza AR (approximately 1hr 22 minutes from Piggott)
On a hot summer day in 1934, a group of sharecroppers came together to form the Southern Tenant Farmers Union. The organization made history by involving both black and white farmers, as well as placing women alongside men in leadership positions. Today their original headquarters — a dry cleaners and gas station owned by two of the organizers — serves as a museum dedicated to the sharecropper lifestyle and Depression-era farm labor activities that grew into a national movement.
Johnny Cash's Boyhood Home
110 Center Drive, Dyess, AR (approximately 1 hour 19 minutes from Piggott)
The Dyess Colony, created in 1934, was part of the New Deal to aid in the nation's economic recovery from the Great Depression. As a federal agriculture resettlement community, it provided a fresh start for nearly 500 impoverished Arkansas farm families, including the family of music legend Johnny Cash. The Dyess Colony Administration Building houses exhibits, while the Johnny Cash Boyhood Home is furnished as it appeared when the Cash family lived there.
check availability
Rooms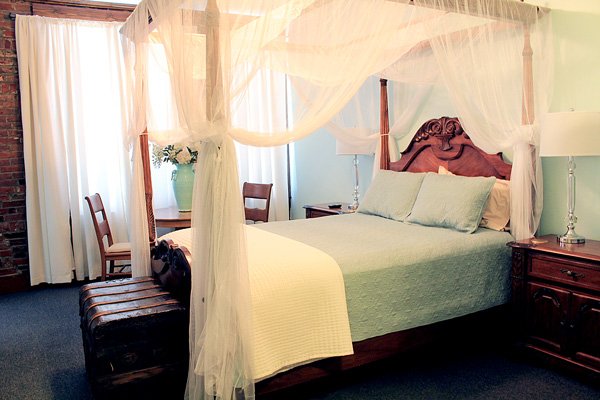 The guest rooms at the Inn at Piggott are each individually branded with a unique presentation that depicts the incredible history and heritage of Piggott, Arkansas. All aspects of Piggott life are framed and incorporated into each room to bring our guests 'home'!
Breakfast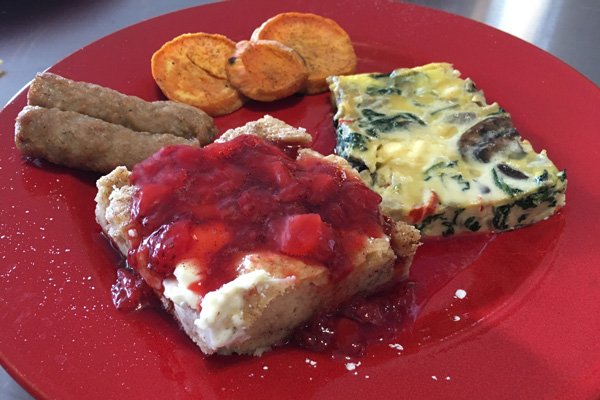 Breakfast at the Inn at Piggott is intended to be an event. Expect to be served something that you may not normally consider if you were preparing something for yourself. Each plate is masterfully presented to encourage the breakfast photograph to share with your friends.